Coca-Cola Roxy Information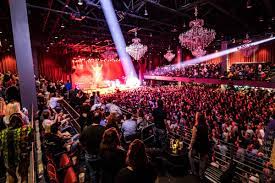 Georgia's Coca-Cola Roxy is a concert venue located in The Battery Atlanta. It's named after the old Roxy Theatre which was always famous for hosting incredible shows and events. The Coca-Cola Roxy officially opened to audiences in April 2017.
History
The idea for the Roxy came on July 16, 2015, when the Atlanta Braves and concert promoter Live Nation Entertainment announced plans to develop and manage the long-planned entertainment venue adjacent to Truist Park. The planned venue was named in homage to the old Roxy Theatre which had been torn down in 1972.
Originally, the announced venue was planned to have standing-room-only capacity for 4,000 people and to feature an average of 40 shows and concerts annually. It was intended to help drive activity in the area between Atlanta Braves game days and to offer a space to host special events.
Construction on the venue was completed on in 2017 and the opening night was on April 8, 2017 featuring Radio 105.7's 4th Birthday Bash.
Layout
The venue runs across 53,000 square feet of space. This space includes a theatre and two tiers of seating. The large space in the center is primarily used for General Admission standing-room only space, while the seating on the side is more traditional theatre seating. The upstairs seating area consists of about 800 seats and there are four public bars in the venue, with a fifth reserved for the VIP area.
More Coca-Cola Roxy information:
Ticket Policy:
Click here for our recommended ticket marketplaces ticket policies and information on authenticity guarantees.
Seating Map:
Click here for the Coca-Cola Roxy seating map and different seating sections.
Parking Information:
Click here to read about the Coca-Cola Roxy parking arrangements.